There will be a public school board meeting Tuesday December 14th @1:30 p.m. in the Frankford Elementary gym.
As we head into December and winter approaches, we want to remind parents how they can stay informed when inclement weather affects school. The decision to delay the opening of school, dismiss early, or close school for the day due to weather conditions is never an easy one. Our priority is always the safety of the children. School closings, or early school dismissal, will be announced on the district website and sign as soon as the decision is made. In addition, we will send emails and autodial phone calls and text messages to BGR-1 families. Our community will also find accurate information about school closings on the following television stations: WGEM, KTVI (Ch.2), and KSDK (Ch. 5), both TV and online, on the Townsquare Media Quincy/Hannibal KHMO‐AM/KICK‐FM/KRRY‐FM/WLIQ‐AM and KJFM (Eagle 102) radio stations and websites, The Bowling Green Times and Peoples' Tribune online broadcasts, and on our District Facebook page. When we experience inclement weather conditions, safety is the most important consideration. Parents can help their students and the district prepare. Make plans ahead of time and communicate them with your children so they understand what to expect during an early school dismissal due to inclement weather. Understand that school closings are for the safety of children throughout the district. While the condition of your neighborhood streets may be fine, other areas of the district may be experiencing harsher weather. Please review the information you have listed as emergency contacts and make sure that the numbers are updated in our Student Information System by contacting your building office. Lastly, I am thankful we have not had any snow days within the first semester of this year so far. You may know that schools can attend remotely this year on days where schools are closed due to inclement weather and can count these for attendance and not be made up. This was new last year. We still plan to use the first five of our built-in snow days as regular nonattendance days if we have to close for inclement weather before using this remote option, otherwise known as AMI (alternative methods of instruction days). If we have more than five snow days, our plan is to use our Alternative Methods of Instruction plan approved by our state education department. Look for more information about this after the first of the year.
BGE Families the FFA Reading Rodeo is coming to town tomorrow, Thursday the 18th. Book fair opens at 5:00, dinner served at 5:30, FFA station rotations start at 6:00. Hope to see lots of you there! Mr. Kessler

Today, on the 11th hour on the 11th day, of the 11th month, we honor several Americans who have heeded the call to serve others in our community, our state, and our nation and abroad. We celebrate Veterans Day, and honor the more than 25 million Americans, living Americans, who have served in our Armed Forces. We are so proud of our Bowling Green R-1 School District Veterans!!! Please make time to thank them for their sacrifice: Craig Smith-USAR, Tiffany Koester-USN, Gene Zbleski-USAR, Dan Grimes-USMC, Bill Holford-USAF, Don Farris-USAF, and Matt Frederickson-USAR (ret). Also Bob Kirkpatrick, Board Member-USAR and Vietnam Veteran As a reminder, Bowling Green Middle School is proud to serve free meals for veterans today at 11 a.m. for coffee and tea and lunch at 11:15 a.m. and the Veterans Program at 12:15 p.m. with guest speaker Major General (ret) Michael Zerbonia . Thank you all for helping to remember our veterans and making sure our students learn the importance of service to others before self. #VeteransDay #BGBobcatPride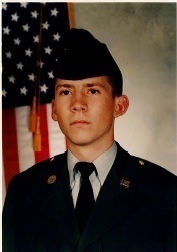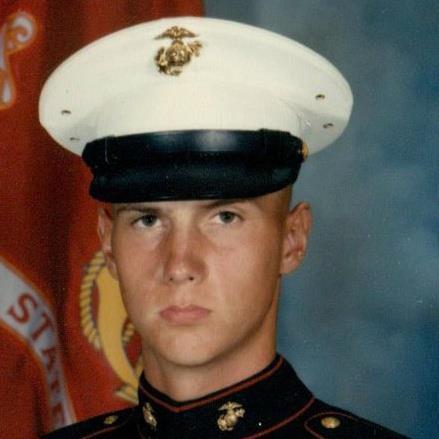 BGE PTO meeting tomorrow 11/9 at 6:00pm in the BGE multipurpose room. Hope to see lots of parents!
BGE Reminder: All cash and check donations are due tomorrow for our STEAM Engine fundraiser. Thanks for all your help and generosity! - Mr. Kessler
Hey BGE. It's not too late. You can still enter 10 emails and complete your golden ticket. We'll do another round of prizes tomorrow!
BGE is currently experiencing difficulties receiving outside phone calls. If you need to get ahold of school please email
jrwatts@bgschools.k12.mo.us
Hello, Parents and Families! We are excited to offer a way to give back to Bowling Green Elementary! On October 25th we will be kicking off our fall fundraiser to help benefit our students and staff. Our STEAM ENGINE fundraiser, more specifically will help with funding our student/teacher incentive recognition fund and our PTO funds to start up and outdoor classroom. It is going to be AWESOME, and we are excited to get started! A few things to note: • This fundraiser will be very easy for you. It only requires about 10 minutes of your time. • Your students can earn great prizes, just for their effort. No money required! • This is an online, donation-based fundraiser, and the donation requests can go to people you know anywhere in the world. That means, no direct pressure on your shoulders. Students will be bringing home more information next week after our Launch Party Assembly. Please help your student register and complete the Golden Ticket assignment THAT VERY NIGHT! All students who complete the Golden Ticket assignment will receive fun PRIZES and it does not require any money to register. We will also be doing some fun drawings for an iPad and TWO Mini Party Fridges stuffed with CASH! I will be sending a few more emails throughout the two-week fundraising period. Please contact me directly if you have any questions. Thank you in advance for your support! Sincerely, Mr. Kessler BGE Principal
BGE Reminder: No School on Thursday, October 21st or Friday, October 22nd. Parent Teacher Conferences will take place on Thursday.
Dear BGE Parents and Guardians, You are all invited! Please find attached an agenda for our first BGE Parent Advisory session to be hosted tomorrow evening, Tuesday, October 12th @ 5:30pm in the BGE Library. Come join us to learn more about the two of us and how we are working to improve BGE for your students. Additionally we invite you to submit questions, ideas, and/or suggestions to add to our agenda via the google form found here:
https://forms.gle/o9Ms2p7KAsqEiWQa8
. Only items submitted via this form will be discussed at the chat session. We also ask that you not bring private student and/or staff concerns to this meeting. Either of us would be happy to schedule private appointments with you to hear those concerns. We hope that this session kick starts a positive, robust atmosphere of parent/staff collaboration to achieve our common goal of student improvement and excellence. Please stick around afterwards for our October PTO meeting @ 6:00 pm in the BGE Library and discover other ways to get involved on our campus. Cordially, Cory Kessler and Maggie Brown Principal and Assistant Principal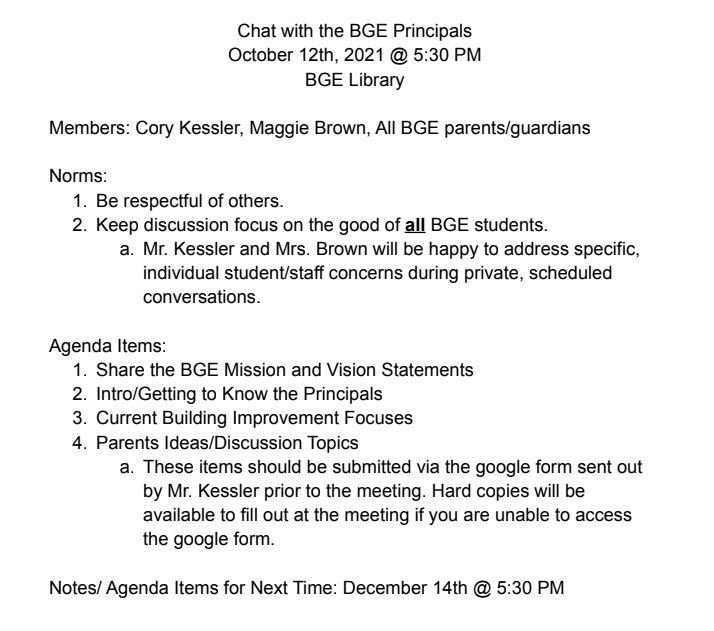 PTO meeting this Tuesday, October 12th @ 6:00 PM. Mr. Kessler and Mrs. Brown will also be hosting a principal's roundtable discussion @ 5:30 PM in the BGE Library. Come share with us your thoughts and ideas on how to make BGE an even better school for our community. More details to come tomorrow about specific discussion topics and how to participate. All parents are invited and welcome to attend both of these events. We look forward to seeing and hearing from you on the 12th.
BGE Reminder: School will not be in session on Monday, October 4th due to a staff PLC (professional learning community) day.
We've had an awesome first five weeks of school. Please check out the first edition of the BGE Times here
https://5il.co/zkmx
. Have a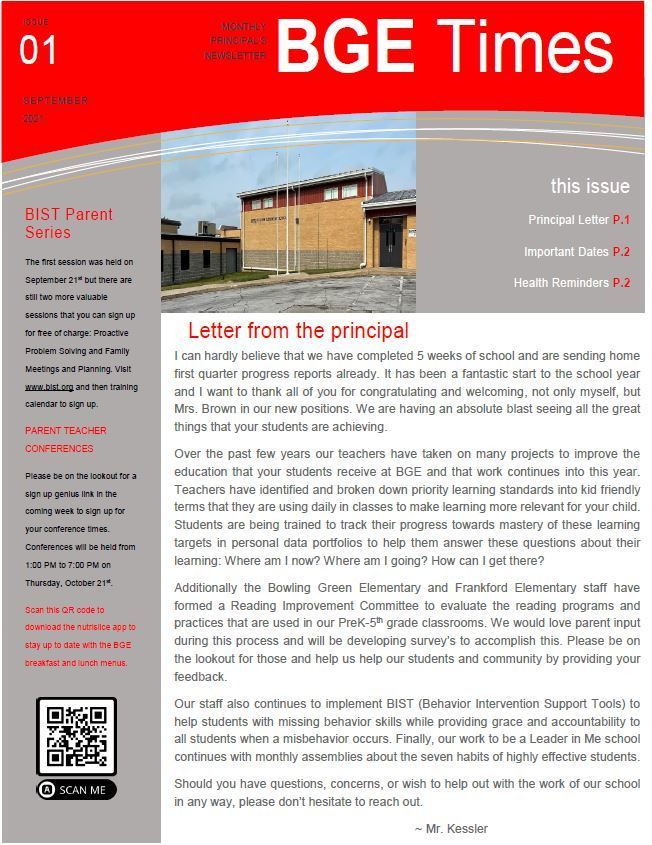 Reminder: No school tomorrow, September 20th. It's the teachers turn to learn. We'll see all of our young scholars on Tuesday morning.
BGE will dismiss @ 12:50 tomorrow for homecoming. No Y Afterschool. Parade @ 3 pm.
Picture Day is coming up on 09/27/2021! Order online at inter-state.com/FlyerEntry/59518QF

Picture Day is coming up on 09/27/2021! Order online at inter-state.com/FlyerEntry/59518QF