About The Program:

Mission Statement
The Gifted Program supports students in their pursuit of the school mission. Through personalized instruction, students will think critically and creatively while engaging in collaborative, meaningful interactions with all students and others in our community.
We Believe all gifted learners...
Deserve equitable opportunities to ensure their unique needs are met.

Should be challenged to think critically in order to reach their potential.

Thrive academically and socially when provided extensions beyond the traditional classroom environment.

Need learning opportunities that require the development of task persistence and resilience.

Are often overlooked due to their unique traits and behaviors.

Exist across all cultural, socioeconomic and gender groups.

Exhibit different strengths and weaknesses across multiple areas.
Bowling Green Gifted Learners will:
Develop their social awareness, increase academic knowledge and pursue individual talents.

Take ownership of their learning.

Build a growth mindset approach to social and academic challenges.

Value their own and others' circumstances. They will possess skills to cooperate and collaborate with all students.
Bowling Green Gifted Learners will:
Be challenged to think in new ways and to critically evaluate their own belief system.

Embrace differences as a stepping stone to further intellectual and emotional growth.

Develop grit as a result of learning opportunities that require perseverance.

Be accepted for who they are and be pushed to think beyond superficial differences.


Options Applicable in Grades K-8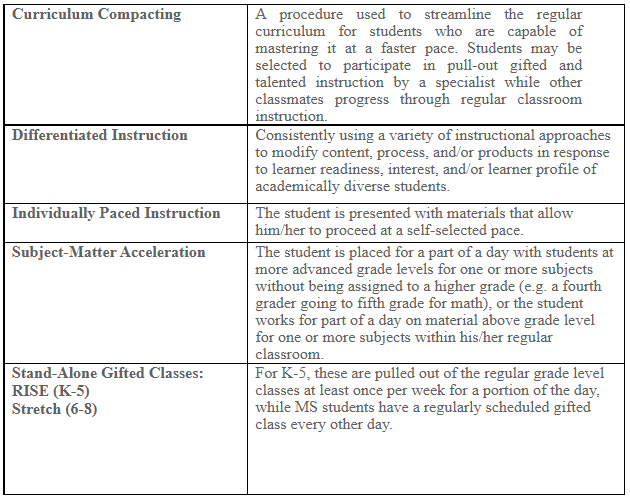 Options Available for High School Levels