2019 ALUMNI BANQUET
The BGHS Alumni Association is pleased to invite you to the 35th Annual Alumni Banquet. The banquet will be held on Saturday October 12, 2019, at 6:30 pm in the James A. Wilson Gymnasium. The cost is $25.00 for the meal per person, which includes annual dues. This year we will be honoring graduates of the classes of pre-1958, 1959, 1969, 1979, 1989, 1994, 1999, and 2009. A link to the registration form and 2019 newsletter can be found by clicking on the link below.
1992 BGHS GRADUATE SEAN MORRIS TO BE 2019 KEYNOTE SPEAKER
Sean Morris is a proud member of the Bowling Green High School Class of 1992 and lifelong Bowling Green resident.
After graduating from BGHS, Morris attended Southeast Missouri State University and Hannibal-LaGrange University. Morris received a Bachelor of Science Degree in Business Administration.
Morris was very active in baseball for a brief time before dropping back to focus on his family and business.
Morris has been married to his wife, Tracy, for 25 years and they have three children, all of whom have attended or currently attend BGHS.
Morris currently serves as the President of ALL-WAY,Inc., which is headquartered in Bowling Green. The company also operates a full production facility in Springfield, Mo., as well as warehousing additional product and material in St. Louis, Kansas City Springfield,Ill., and Granite City, Ill. The company primarily serves U.S. Department of Defense agencies, federal and state government agencies, heavy construction and heavy industrial industries to name a few.
Morris has been involved with several local boards and committees, serving as the President of some in the past. Morris has also served on various advisory committees primarily related to the industry in which ALL-WAY is involved.
While Morris has a passion for business, his favorite past times are related to spending time with his family, traveling and any time in the great outdoors.
HONORED CLASSES
This year we will be honoring graduates of the classes of pre-1958, 1959, 1969, 1979, 1989, 1994, 1999, and 2009
2019 SCHOLARSHIP REPORT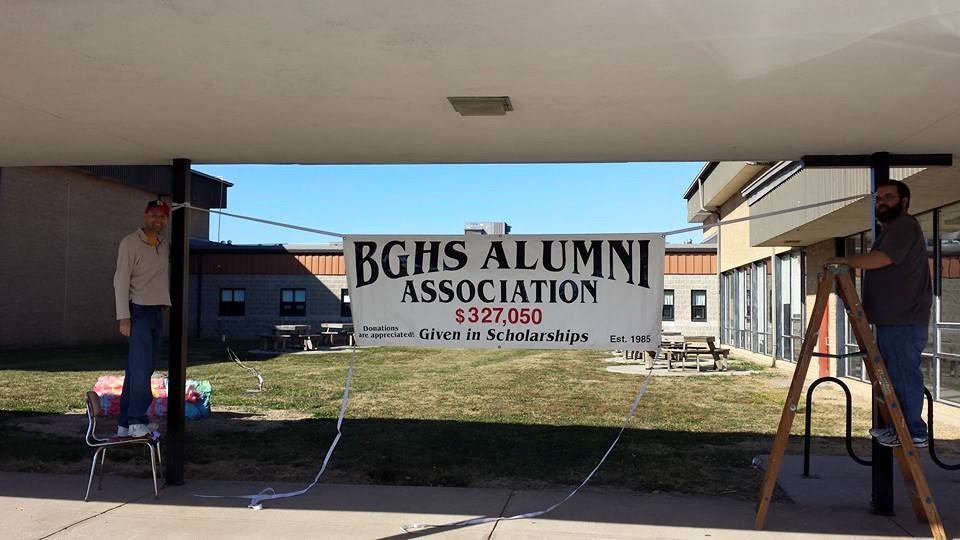 The BGHS Alumni Association chose 10 Bowling Green High School seniors to receive $1,000 scholarships in 2019. Recipients were honored during high school graduation ceremonies. Since the Association's founding, over $366,050 has been awarded to BGHS students. The outstanding generosity of our alumni is greatly appreciated and we ask for your continuing support in order make sure future generations of BGHS alumni can receive assistance in their post-high school education.
CONTACT INFORMATION
Correspondence to the BGHS Alumni Association may be sent by mail to: P.O. Box 132, Bowling Green, Missouri 63334.
Please join our group on Facebook by searching for "Bowling Green High School Alumni Association (Bowling Green, MO)". Once on the page, click to join the group and you will be able to post comments on the wall and see other member's comments on your wall. This is a great way to reconnect with friends and classmates, and stay up to date on the Alumni Association's activities.
For additional information, please contact our current BGHS Alumni Officers or Board Members:
President – Shane Betts '94
1st Vice President – Jeffrey Shaw '02
2nd Vice President – Catherine Adams Rosen '81
Secretary – Julie Dietle Colbert '76
Treasurer – Lisa Vogel Scherder '62
Corresponding Secretary – Catherine Adams Rosen '81
Historian – Doris Lindsay '53
Board Members: Talley Shaon Saucier '63
Roger Colbert '76
Susie Edwards Edmond '69
Advisory Members: Bess Gamm '53
Charlene Davis McCune '57
Julie Hood Leverenz '80
Amber Grote '97
Zella Hickey Eliason '71
Doris Peabody Miller '55
Ryan Bibb '98
HISTORY OF THE BGHS ALUMNI ASSOCIATION
In 1984, a group of BGHS graduates, many from the classes of 1930-1935, met to discuss the possibility of forming an Alumni Association. The group was led especially by Dorothy Bibb Krein and Virginia Craig Wendel of the class of 1932. This founding group held the first banquet in 1985 for the purpose of planning a scholarship program that would help graduating seniors each year. The first scholarship of $250.00 was given to Jay Niemeyer. The organization was incorporated on April 7, 1986. The first officers were:
President – Charles Schuckenbrock
Vice President – Bill McIlroy
Treasurer – Frieda Hall
Board Members – Dan Galloway and Fenton Hurd
We owe great appreciation to this group of BGHS graduates for their hard work and vision to form this organization that lives today to celebrate the education and memories of four important years in the lives of everyone who graduated from Bowling Green High School.